The Get Fresh Presenters, Still Fresh Today?
Despite being older & greyer all of the team continued to work on TV, in film, or in the theatre. The chances are that most of you will have seen at least some of their work.

Gaz Top – Main Presenter
Dropped the name Gaz Top after Get Fresh and continued to present on TV and radio as Gareth Jones. A diverse range of shows including it ITV1's How 2, BBC1's Tomorrow's World and Channel 4's Over The Moon, (one of many programmes he has also co-produced). Directed 3 series of GamePad for Bravo Currently running production company WhizzBang TV who make media for museums worldwide, appearing in The Tommy Cooper Show and producing car podcast Gareth Jones On Speed.

Charlotte Hindle – Main Presenter twitter.com/charlottehindl1
Went on to appear in Gilbert's Fridge, then hosted The 8:15 From Manchester, director on Why Don't You....? Currently directing and producing for ITV's My Favourite Hymns.
Gian Sammarco – Main Presenter
In 1997 Gian returned to the part that he was most famous for (Adrian Mole) in The Growing Pains of Adrian Mole, later he appeared in Jackson Pace: The Great Years. Press Gang and Dr Who. Currently believed to be working as a psychiatric nurse.

Phil Cornwell – The Voice of Gilbert the Alien twitter.com/gilbertthealien
Performed and co-wrote Gilbert's two spin-off series Gilbert's Fridge and Gilbert's Late. Phil has performed in TV dramas such as Gormanghast on BBC1 and live theatre such as Journey's End in the West End. Phil is best known nowadays as an acomplished impressionist and star of BBC1's Dead RIngers and BBC2's Stella St.
John Eccleston – Gilbert Puppeteer
Presented Brill for ITV later performed as one of the Wolves in What's Up Docand Wolf It, one of The Leprechauns for Live & Kicking. More recently, The Hoobs and Rigel in Farscape.

Richard Coombs– Gilbert Puppeteer
Continued to work for Spitting Image and Jim Henson. Operated the Polar Bear puppet in the movie, The Snow Queen.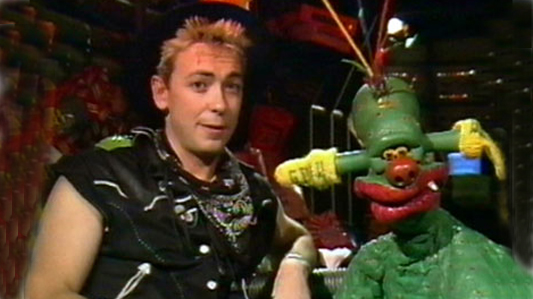 Michael Basset – Get Wild, Animal Presenter twitter.com/michaeljbassett
Operated the puppet, Scally the Dog for ITV but recently wrote and directed a number of big-screen movies, Deathwatch, Solomon Kane, Strike Back, Silent Hill: Reveleation, Ash vs Evil Dead
Carmen Pryce – Get Sweaty, Sports Presenter
Had a brief spell as a Tomorrow's World presenter, educational programmes for BBC Schools. Currently working at BBC White City.

Andy Smart – Vicious Boys twitter.com/andycsp
The Vicious Boys presented C4's American Football coverage for a while, but spilt up in 1990. Andy is a member of the celebrated Comedy Store Players.

Angelo Abela– Vicious Boys
Appeared alongside Nobby The Sheep in The Ghost Train. Currently directs and writes comedy for ITV, worked on My Parents Are Aliens.