The History of How2
How2 is a children's television shown on ITV in the UK and to English Speaking countries all over the world. The format of the show is simple, and revolves around one idea, answer questions that start with the word how, such as: How does a plane fly? How did carrots help win a war? and How do you get an egg in a matchbox?

But How2 is a revival af a hit children's show called HOW, which first appeared way back in 1966.

Originally devised by one of the show's presenters Jack Hargreaves, as a show for adults to watch when they returned form the pub, full of facts that would settle arguments and tricks that could be done on a bar-top or pub table. The show was hosted by Jack along with Fred Dinenage, Bunty James, and Jon Miller.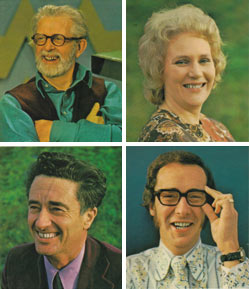 The formula of the show was ideally suited to a children's programme, so How moved from it's late night slot on Southern Television to an afternoon slot in children's hour broadcast right across the ITV network.

Made in Southampton at the studios of Southern Television, the show was hugely popular and and so was granted two slots a week. Towards the end of it's run Bunty's place was taken by ex Ladybirds vocalist Marion Davies.

The original series of How came to a premature end in 1982 when Southern lost their ITV franchise. One of the most successful British children's programmes of all time vanished from our screens for 8 years.